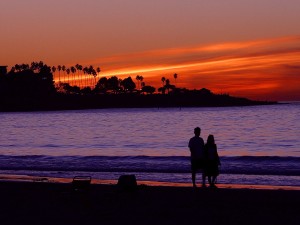 We live in a fast paced, fast food, media saturated, noise polluted time.  We are bombarded by expectations, pressures, commitments and deadlines.  This does not bode well for living well, to say nothing of living long.  It is hard to escape entirely or permanently from our surroundings.  What we need are times of peace, calm, serenity and tranquility.  These things at times seem unattainable.  Maybe that's why tranquility follows tranquilizer in the dictionary!  If however we consider the parts of our lives (soul, mind and body) and the impact of stress, then we understand just how much we need times of respite.  With a little effort we will also find that they are far from unattainable but are actually within our reach.
First, we need rest for our souls. When you are well rested, it makes it easier to accomplish many other things. "Stand at the crossroads and look; ask for the ancient paths, ask where the good way is, and walk in it, and you will find rest for your souls." (6:16)   The ancient paths, the good way all lead back to the Lord.  "Come to me, all you who are weary and burdened, and I will give you rest.  Take my yoke upon you and learn from me, for I am gentle and humble in heart, and you will find rest for your souls."  (Matthew 11:28-29)  Is your soul weighed down by the many anxieties and worries that you carry?  Take time each morning, before the day gets going and in prayer, lay before Christ all that troubles your heart and thank him for the day.  Leave the burdens with him.
Second, we need rest for our minds. If you are like me you spend most of your day juggling thoughts and trying to remember all that you need to do.  Those things must still be done.  But instead of trying to keep them all up in the head.  Write them down, check them off as they are completed.  You will sleep better and have fewer headaches.  Don't stop there though.  For mental relaxation I take a quick drive to the local lawn and garden center.  I spend about ten minutes near the water fountains (not the ones you drink from).  During one summer, I helped a friend install water features in backyards.  It was normally water splashing down into a pool where sometimes colorful fish swam.  Client after client insisted that the relaxation provided by the sounds of falling, trickling or splashing water instantly relaxed them.  Japanese gardens for centuries, perhaps millennia, have demonstrated that. If that is impractical, purchase a sound effects compact disc that includes waterfalls or the ocean.  Lean back in your chair for merely twenty minutes and emerge mentally reenergized.
Third, we need rest for our bodies. Television is notorious for robbing us of bodily rest.  Turn it off.  Most tv's can record a show for you.  Study shows that people who regularly get 7-8 hours of sleep live longer than those who sleep for less than seven or more than eight. Enjoy a warm drink and dim lighting 30 minutes before lights out.  Sunday is the day God designed for his people to worship him togther AND to rest from their labors.  Don't cut grass.  Don't work out.  No strenuous physical activity at all.  Our bodies need that time to repair, drive out impurities, and restore itself.  Take a nap or rock in a chair.  Buy a hammock on Friday, install it Saturday and swing back and forth on it Sunday (after church J ).
The stresses of this life are real and are demanding.  But we don't have to succumb to them.  God has graciously given us ways to deal with the strains of the life.  Give rest to your soul by casting upon him the worries and fears on him, because he cares for you.  Give rest to your mind by handling tasks smartly and using creation to melt away the mental fatigue.  Give rest to your body by ceasing from work when it is time and getting enough hours of sleep.  Practicing these will not only lead to longer life but a life better lived where times of peace and tranquility override the noise.


The importance of tranquility in your life:
Play in Popup