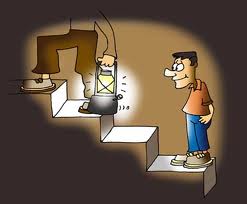 It has been an enormous blessing in my life to have people to look up to and emulate.  Perhaps you have as well: a beloved teacher, an inspiring football coach, a supportive employer, an active father or a mother who took time to listen.  We call these people "God-sends" and in reality, that is precisely what they are.  God endows them with such strength of character that we are nearly compelled to say "that is who I want to be like."  Recently I conducted a funeral that was attended in such a way as to fill all available seats in the sanctuary.  She was a tremendous blessing in that woman her age considered her the wise, trusted older sister they never had.  Younger women gleaned generously from not only her words for living life but in the very manner in which she lived hers.  Young husbands were grateful for her because of her influence on their wives.  She was a mentor to many.
The Bible gives us vivid examples of mentoring relationships.  We see where God allows one or more to one day take up the mantle of leadership or to carry on a legacy.  Elijah was an Old Testament prophet who was in a class all his own.  When seminary students are asked which prophet is their favorite many turn to him.  Elijah had a protégé.  His name was Elisha.  He prayed that he might have a double portion of the spirit of Elijah.  He wanted to be the godly man that Elisha was.  Another fine example of this kind of relationship is found in the apostle Paul and his young disciple Timothy.  Paul often referred to Timothy as a "son in the faith."  Paul would call others to walk in the same manner as he.  "Whatever you have learned or received or heard from me, or seen in me-put it into practice."  (Philippians 4:9)  Being a mentor is to be a guide, a counselor or a teacher.  Of course the superlative teacher in none other than Jesus Christ, whose twelve disciples and their followers were "turning the world upside down."  (Acts 17:6 KJV)  One generation of faithfulness handing down to the next generation to be faithful, that is a picture of mentoring. (Article source: ABCFastDirectory.com)
So we have examples of wonderful mentors in our lives and we see how they were important in the Scriptures.  So what about you?  Is there someone you are pouring your life into?  Believe it or not someone is watching you.  It matters to them the decisions you make.  If it's okay for you to do it, it must be okay for them, they reason.  We may never know who is watching us and our character and behavior.  Hand down to another person what you have learned.  We gain wisdom as we mature, don't hoard it but share it.  There is immense satisfaction that you will soon feel just by befriending another who could use a little direction.  Speak kind words and let them know they are important.  The smile on their faces as a trusting relationship emerges will be thanks enough.  There are easy ways to do this.
Your local Boys & Girls Club
Lunch Buddies.  Many public schools are allowing adults to come in and eat lunch with a student they know could use a role model and some encouragement.
The children's Sunday School classes.  Churches always need more teachers so lend a hand and be huge in a child's life.
College students away from their parents could always use a home cooked meal.  Invite them in and invest your life in them during the temporary stage in their lives, they won't forget it.